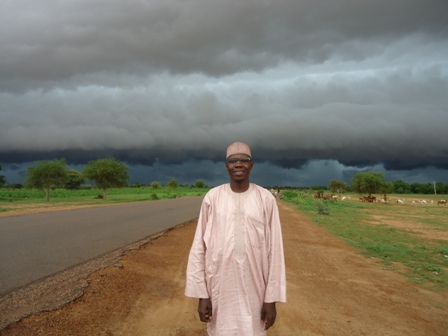 ACCREC SECRETARY GENERAL
Nura Jibo, BSc QS (ABU).
Mr. Nura Jibo is a graduate of Quantity Surveying, Ahmadu Bello University, Zaria, Nigeria. He is presently the United Nations Designated Contact Point (UN-DCP) on climate change. He is the founder/secretary general, African Climate Change Research Centre (ACCREC) –United Nations climate observer organization since 2010. Nura is  a member, Royal Institution of Chartered Surveyors (MRICS) England since 2014. He is Associate Member, Association for Project Management (UK) since 2016. He was the Assistant Secretary General, Nigerian Institute of Quantity Surveyors, Jigawa state's Chapter (2015-2017).
The African Climate Change Research Centre under his secretarial role has been given special accreditation to the third session of the Preparatory Committee (PrepCom3) of the United Nations Conference on Housing and Sustainable Urban Development (Habitat III) that was held in Quito, Ecuador from 17 to 20 October 2016.
The decision for granting Special Accreditation to ACCREC was made by Member States during the PrepCom3 meetings, and it was communicated to the Centre via e-mail thereafter. ACCREC is now duly accredited as one of the NGOs admitted into the Habitat III member organizations.
His research areas are on climate change adaptation, especially on desertification, deforestation and environmental degradation. He conducted so many research works on climate change and desertification problems in Nigeria; climate smart agriculture and food security; climate change and health; climate change and environmental policy implication on degraded areas in Nigeria.
He conducts research works on CORDEX (Coordinated Research on Climate Downscaling Experiment) with the CORDEX community. He was invited in May 2016 to University of Stockholm, Sweden and presented two papers to CORDEX community on "Africa regional climate multi-data analyses and management"; "Africa and global climate change politics and scientific governance".
Nura has a special interest on cities and climate change research. Recently, he had a specialized course on cities and climate change from United Nations Institute for Training and Research (UNITAR). He passed with distinction.
As UN-DCP, every year he nominates and leads ACCREC's delegates to the United Nations Conference of Parties (UN-COP) International Summits since 2010. The UNFCCC's Research and Independent Non-Governmental Organization (RINGO) constituency delegated him to represent ACCREC in the UN climate Paris Agreement that took place in December 2015 at Le Bourget, Paris. He was there up to the final day of the agreement. He feels pleased, because he was part of making that history – the Paris Agreement. (Details available on request).The Nigeria's Minister of Environment and Nura were left up to the closure of the COP 21 Paris Agreement on Saturday at Le Bourget, Paris.