A REPORT OF PRESENTATION OF AWARD OF RECOGNITION AS CLIMATE ACTION CHAMPION TO HIS ROYAL HIGHNESS THE SHEHU OF BAMA, BY AFRICAN CLIMATE CHANGE RESEARCH CENTER MAIDUGURI AT HIS PALACE IN BAMA TOWN ON 11TH JUNE 2020
1.0 Background
Bama is a local government of Borno state located about 60km from Maiduguri with a total landmass of 4,997 km2 and a population of 269,986 at the 2006 census. On September 2, 2014, Boko haram seized control of Bama. It is one of the towns bordering the sambisa forest.
During the addresses of the first eid prayer of the Shehu after his ascension to the throne, HRH made a call on his subjects to desist from indiscriminate felling down of trees at this has an adverse impact on the agricultural output since deforestation affects the pattern of rainfall. He assured his commitment to sustained effort in curtailing deforestation and promoting sustainable environmental practices.
2.0 Narrative 
The delegation of ACCREC-Maiduguri led by the Regional Director Dr. Usman Ali Busuguma was accompanied by Mohammed Bukar Kolo, Ibrahim Abatcha, Ahmed A Bukar, Aliyu Idris, Mohammed Kyari, Aliko, Baje among others.
The leader of the delegation stated the reason for our visit to His Royal Highness, The Shehu of Bama, Alh. Umar Kyari Umar El-kanemi, at his Palace in Bama on the 11th June 2020. The Leader of the delegation (Ali Busuguma) presented His Highness with an award of recognition as "Climate Action Champion" for his role in curbing climate change.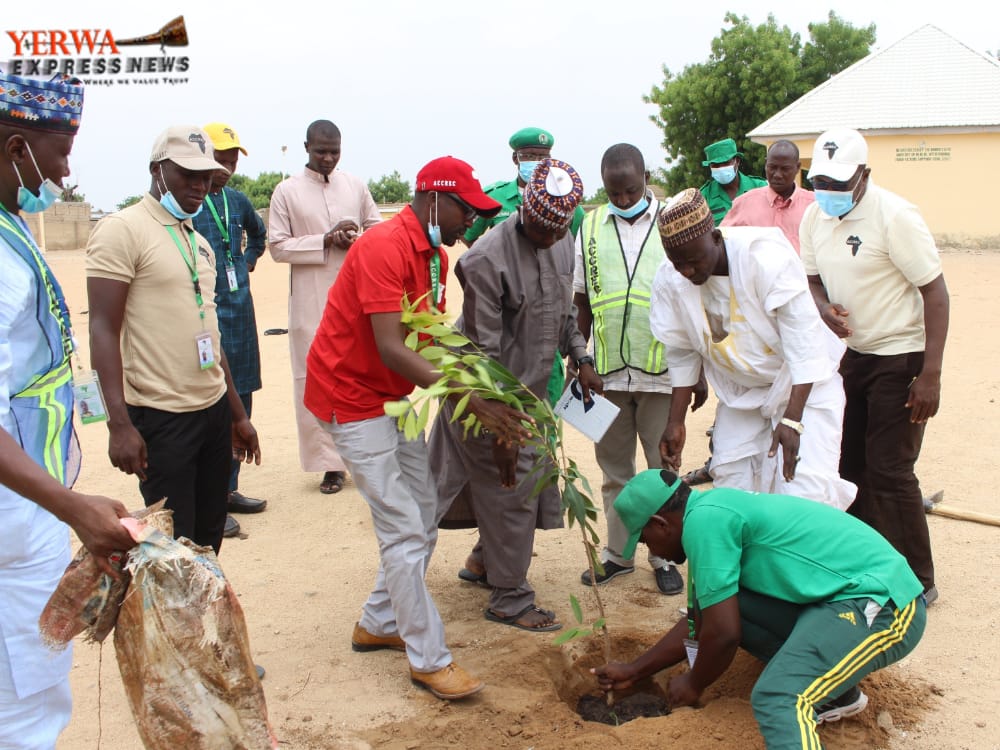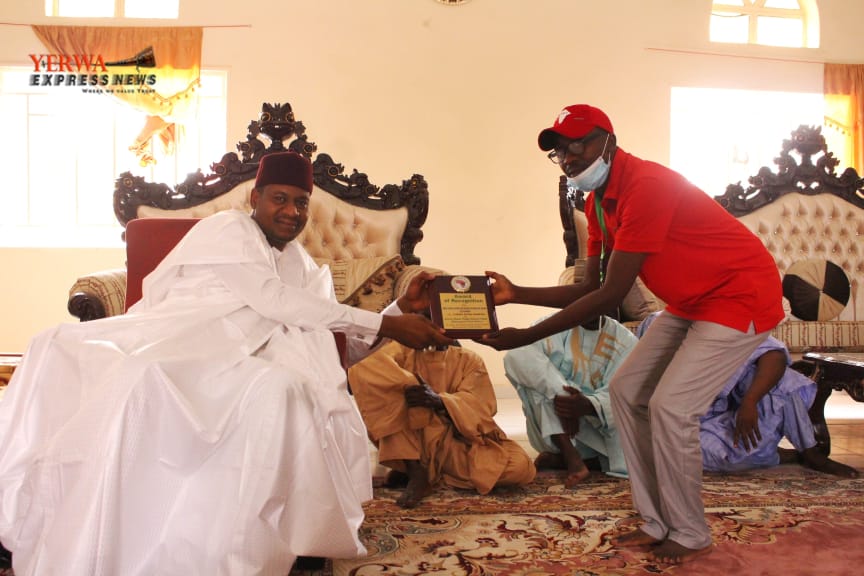 During the ward presentation to HRH the Shehu of Bama by the Regional Director Usman Ali Busuguma In the address of the Regional Director he commended the Royal Father for his call on the people of Bama to desist from cutting trees, which is an enabler of droughts, floods, and wind storms. Also expressed appreciation to the Shehu of Bama for spreading the message and pleaded with him to continue enlightening his subjects.
In addition, 30kg of Jatropha seeds and 300 tree seedlings were presented to the emirate. The tree planting was flag-off at Shehu Kyari Secondary School in Bama Town.
While responding His Highness expressed his appreciation for the visit and the ward of recognition charged them to continue to carry on with the great and commendable cause.
Flagg-off of tree planting at Shehu Kyari Junior Secondary School in Bama
Report was written by:
Mohammed Kyari
Public Relation Manager