A REPORT OF STAKEHOLDER CONSULTATIVE MEETING AND UNVEILING OF CASTOR FARMING IN NIGERIA; REVOLUTIONIZING CLIMATE SMART AGRICULTURE: HELD IN ABUJA ON 3rd SEPTEMBER 2020
1.0 INTRODUCTION
The Regional Director was accompanied by Ibrahim Abatcha Umar (Deputy Director Research and planning), however, due to an emergency need the regional director had to return back to Maiduguri and thus, was represented during the event. The Regional Director is expected to by a guest of honour at the event which is tagged unveiling of Castor Farming in Nigeria, hosted by Green Panacea Limited and ACRA Initiative with the support of African Union ECOSOCC, Nigeria.
The meeting was held on 3rd of September 2020 at African Union ECOSOCC Nigeria Secretariat Conference Hall at No. 10, Zambezi Crescent, WAEC Building, 7h Floor, Besides INEC headquarters, Maitama, Abuja. The meeting started at exactly 11 pm.
2.0 FINDINGS
The Nigerian Representative of African Union ECOSOCC, Dr Tunji Asaolu welcomed the stakeholders present at the meeting with a keynote message. In his speech, he said agricultural development in Nigeria is long overdue and the AU ECOSOCC is geared towards changing the narrative as the African Union ECOSOCC is ready to work with stakeholders to forge a new phase for agriculture growth in Nigeria through her partners.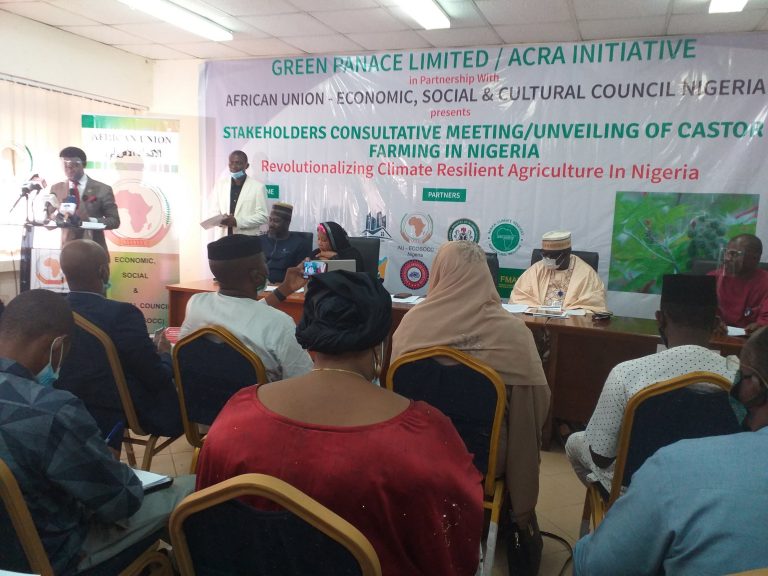 A cross-section of the stakeholder's consultative meeting held in Abuja on 3rd September 2020
Research has shown that the Castor seed can raise a profit of 1.2billion monthly for the Nigerian economy as if invested on by the Government; the GDP of Nigeria will grow abruptly.
The Regional Business Head, Non-Interest Banking, Sterling Bank Plc, Aisha Ashafa said they are overwhelmed by the benefits of castor farming as they are willing to partner and support the Project Engr Chris Anonre thanked the Rt. Honourable Speaker, Kaduna State House of Assembly for his gallant moves and intervention in the activity of AU ECOSOCC Nigeria.
Ibrahim Abatcha addresses the gathering on the activities of ACCREC-Maiduguri in the propagation of castor seeds and Jatropha as a tool for combating climate change and desertification in the northeast. He also shares the new market identified by ACCREC and its partners in China. Various speakers spoke on the implementation of the African Union Comprehensive African Agricultural Development Programme (CAADP) in Nigeria towards increased Food Production, Processing Capacity, Preservation Techniques, Packaging competence and Promotional Innovative Solutions. Castor propagation, importance and uses in Nigeria. The participants are drawn from the federal ministry of environment, agriculture, department of climate change ACRA, Panacea Nigeria limited among others.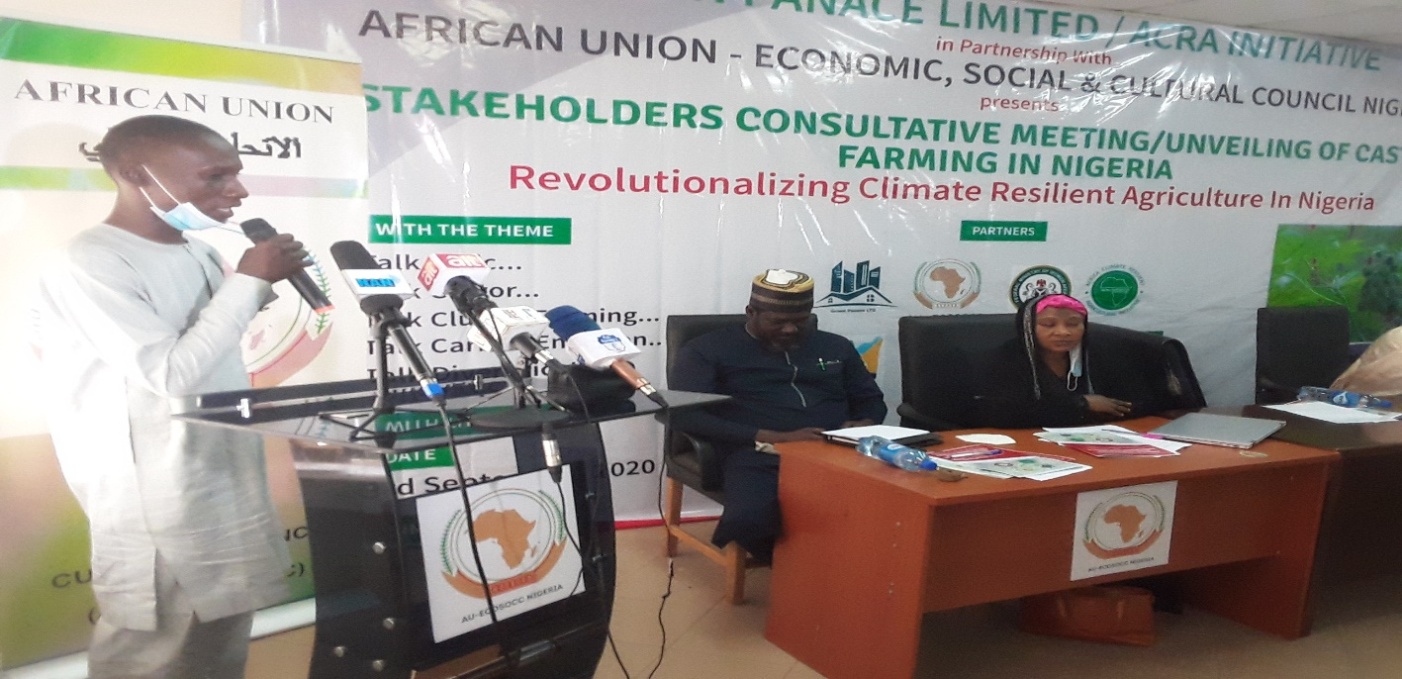 Ibrahim Abatcha addressing the gathering as a guest speaker during the consultative meeting in Abuja
3.0 CONCLUSION
African Climate Change Research Center-Maiduguri, received a special invitation to it Regional Director "Dr Usman Ali Busuguma as a Guest of Honour At the Stakeholders Consultative Meeting and Unveiling of Castor Farming in Nigeria: Revolutionizing Climate Resilience in Agriculture, organized by green Panacea limited/ACRA initiative in partnership with African Union-Economic, social and cultural council Nigeria held at the secretariat conference room in Abuja.
The report was written by
Ibrahim Abatcha Umar
Deputy Director of Research and Planning
African Climate Change Research Center Maiduguri